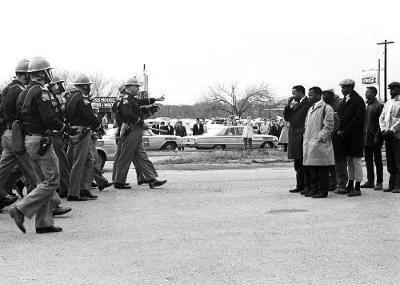 The thousands of people who marched across the Edmund Pettus Bridge in Selma, Alabama this weekend would not be attacked by state troopers, nor face gas or police dogs. Fifty years makes for an auspicious anniversary.  The brutal beatings that brave and determined campaigners faced in 1965 is far outside the memory of most Americans.  It's in a hazy image of black and white (television and race relations), before a black president, the internet, cell phones, or body cameras on police officers.  Bloody Sunday is almost long enough ago that it can, like the words of Martin Luther King, be appropriated by opponents of civil rights.
Almost.
But 50 years isn't quite long enough ago for us to have lost all of the veterans of those 1965 Selma marches.  Surviving state troopers, police, or hostile bystanders have not come forward to share their memories and claim their legacies.  But perhaps a dozen of the civil rights marchers returned to Selma for the commemoration.  The first row of marchers included two veterans in wheel chairs, Congressman John Lewis, Presidents Barack Obama and George W. Bush, their wives, and Obama's children.
Congressman Lewis, formerly the chair of the Student Nonviolent Coordinating Committee (SNCC) remembers the troopers, the fear, the colleagues, and the pain, but not how he got off that bridge alive that day.  He remembers Lyndon Johnson's historic speech, the passage of the Voting Rights Act, and surely a divided Supreme Court's 2013 ruling that invalidated key provisions in the Voting Rights Act reauthorized in 2006 (signed by President Bush).  The presence of Rep. Lewis and other veteran marchers makes it harder to keep the protest at Selma safely in the past.
President Obama's speech at Selma emphasized the work to be done on civil rights in America, including finding a way to restore a Voting Rights Act.  SNCC's heirs have been campaigning with similar courage against police violence in America's cities–starting with Ferguson, Missouri.  We commemorate the past to shape the future.  Civil rights activists want to tap into Selma's legacy to invigorate their current campaigns.  For Democrats like John Lewis, it's easier to invoke the history than to get anything to happen in Congress.
President Bush was the first Republican to sign onto appearing at the Selma commemoration, and for a while it looked like he'd be the only one.  National Republicans with campaigns in front of them saw no benefits to appearing in this version of the civil rights story.  After all, the story of Selma is one in which determined activists used provocative non-violent action to call the federal government down upon their opponents, including elected state and local officials.  Federal judges overruled state courts and federal marshals intervened with state officials.  An activist president invoked the language of the civil rights movement to advance national action to bring disadvantaged people into the political process.  Connecting up with current Republican priorities–like Voter Identification legislation–is is a bit of a stretch.
On Friday, however, current Republican legislators tired of the beatings they were taking in the media, and realized that at least some of their current presidential hopefuls have promised to compete for black voters.  About two dozen Republican members of Congress attended, but not the Speaker, the Senate Majority Leader, or any visible presidential contenders.  House Majority Leader Kevin McCarthy was clear in rejecting any effort to restore the Voting Rights Act; he did, however, remind journalists that his Congress had issued medals to the surviving marchers.  Commemorating the past was great, as long as it stayed in the past.
Meanwhile, President Bush's presence was a matter of some controversy.  Conservative websites (e.g.) complained that George W. and Laura Bush, marching 6 rows away from President Obama, didn't make it into the photo at the top of the New York Times story.  (You can look at all the pictures on line and decide whether that crop was aesthetic or political.)
And all the civil rights activists weren't willing to sign onto a march with President Bush in that first row.  Diane Nash, a co-founder of SNCC and one of the architects of the Selma
Voting Rights Movement, refused to march with Bush.  Crossing the Pettus Bridge in 1965 was probably scarier, but the older Diane Nash again displayed bravery in noting that the Selma Movement was committed to nonviolence, which excluded starting wars and authorizing torture.  Predictably, she took a hit on conservative web sites as well.  (Here's a somewhat more elaborated case against Bush's participation.)
I'm curious about the different choices John Lewis and Diane Nash made regarding President Bush.  Both were courageous and committed crusaders for SNCC from the beginning, working together in Nashville as college students, on the Freedom Rides, and on the Edmund Pettus Bridge in 1965–when the slightly younger George W. Bush was a cheerleader at Yale.  Nash reminded audiences of the early civil rights movement's values and goals, as well as the policy battles of the present.  John Lewis embraced the former president's participation, welcoming him to the commemoration and the cause.  I can see the logic of both approaches, and wonder if the cause is best served by both taking place together.