Tens of thousands of people marched across the East River today to protest anti-Semitism. When the river didn't part the demonstrators hiked across the Brooklyn Bridge, the lines extending far beyond both sides of the bridge. The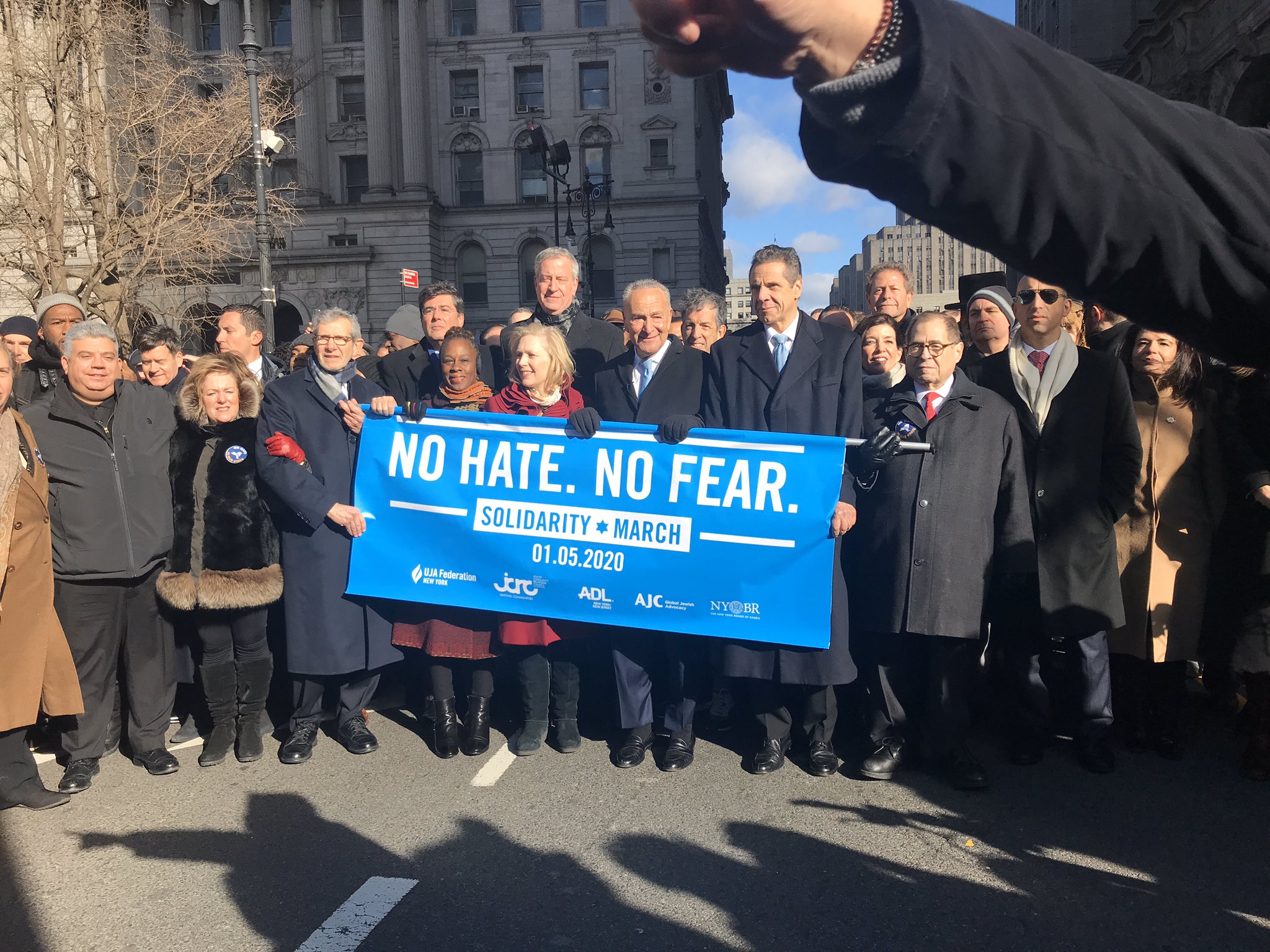 march and rally was a response to recent violent attacks against Jewish people, including a machete attack of a rabbi's home in a New York suburb.
Happy Chanukah.
Even when visible instances of anti-Semitism recede, there are plenty of corners and closets in America and abroad where hatred of Jewish people is nurtured and it's comfortable to deploy all-too-familiar tropes about Jews. The election of Donald Trump in 2016 was an invitation for bigots of all sorts to come out of those closets.
Just after Trump took office, in January 2017, Jewish Community Centers across the country responded to a burst of bomb scares. Months later, at the Unite the Right Rally, we all watched angry young White men carrying tiki torches and chanting "Jews will not replace us." The following year, an avowed anti-Semitic gunman killed 11 mostly elderly congregants celebrating Sabbath at the Tree of Life synagogue in Pittsburgh. (The Jewish community turned out in large numbers to protest Trump's tone-deaf 18 minute visit to the synagogue shortly after.)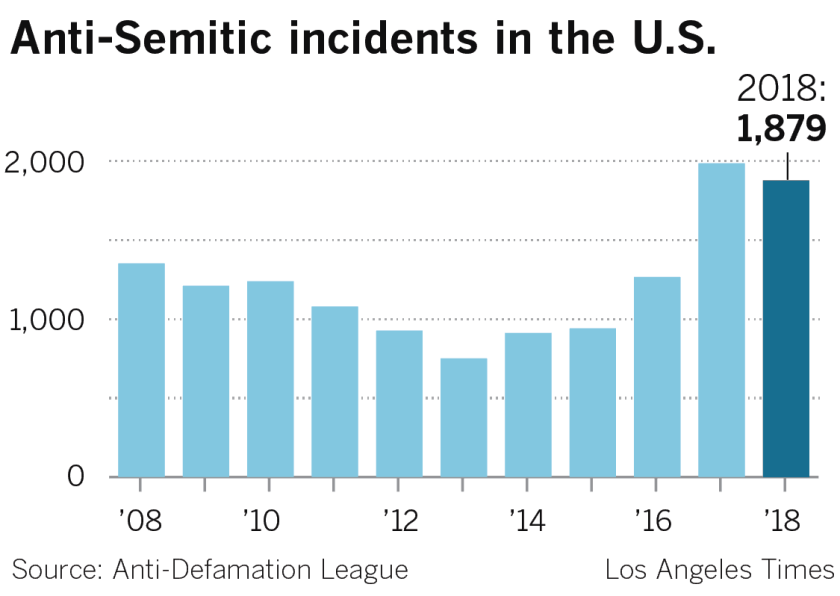 The incidents are dramatic, disturbing, and emblematic of a climate of hate. I think most Jewish people know that people who campaign against any racial or religious group are liable to turn on them. The figure at left, from the Anti-Defamation League, shows a sharp increase in Anti-Semitic events, particularly physical attacks on Jewish people.
The march was a way for Jewish people to stand up to Anti-Semitism, and to give allies of other faiths and backgrounds the opportunity to stand with them. So many did. Black, Latino, and Muslim leaders joined the march, and politicians–some Jewish–were abundant. Governor Andrew Cuomo, US Senators Chuck Schumer and Ki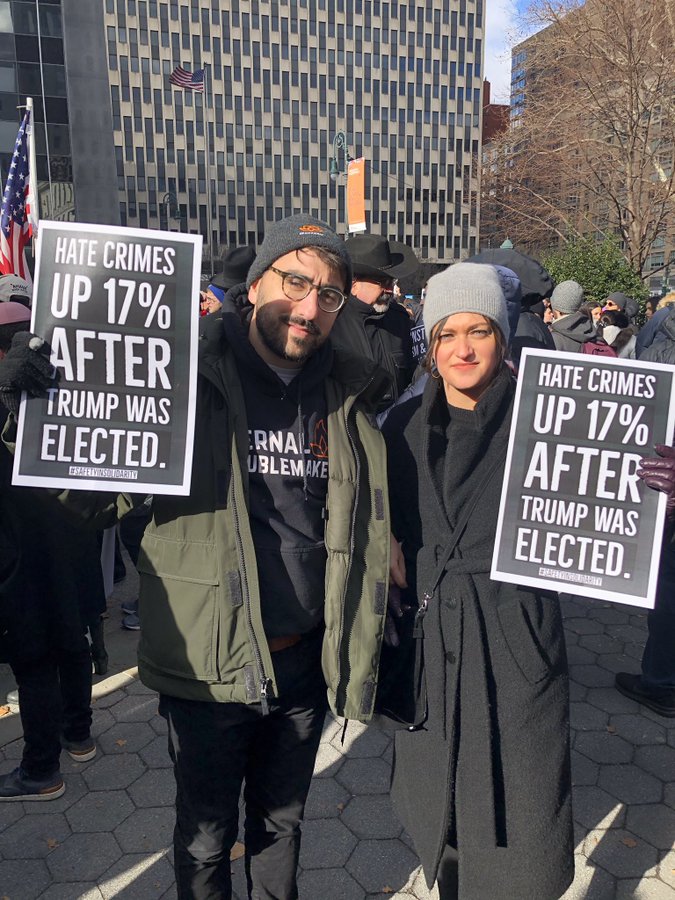 rsten Gillibrand, and scores of members of Congress, the state legislature, and city offices, marched along.  The cynic will note that New York is one of the few places in the United States where the Jewish vote matters, but maybe New Yorkers, even those in political office, understand that protecting your neighbors is protecting your neighborhood.
A freshman Congresswoman from the outer boroughs was among the visible allies. Representative Alexandria Ocasio-Cortez represents an extremely diverse district and has been quick to condemn racist and divisive rhetoric and policy from the White House–including anti-Semitism.
Not everyone was glad to see her there. A report in The Jewish Press chastized Jewish organizations that were critical of Israel and its occupation of the West Bank, favorably quoting Dmitry Shiglik, Chairman of the American Forum For Israel, who announced that "[t]hese organizations should be persona non grata and should be shunned by all mainstream Jewish and Zionist organizations, not welcomed on a march against Antisemitism."
Rep. Ocasio-Cortez, who has quickly become a target for virtually everyone on the American right, was singled out for special scorn because she has opposed efforts to treat criticism of Israel as anti-Semitism on college campuses, because of her criticism of the very recent assassination of an Iranian military leader, and because she (accurately)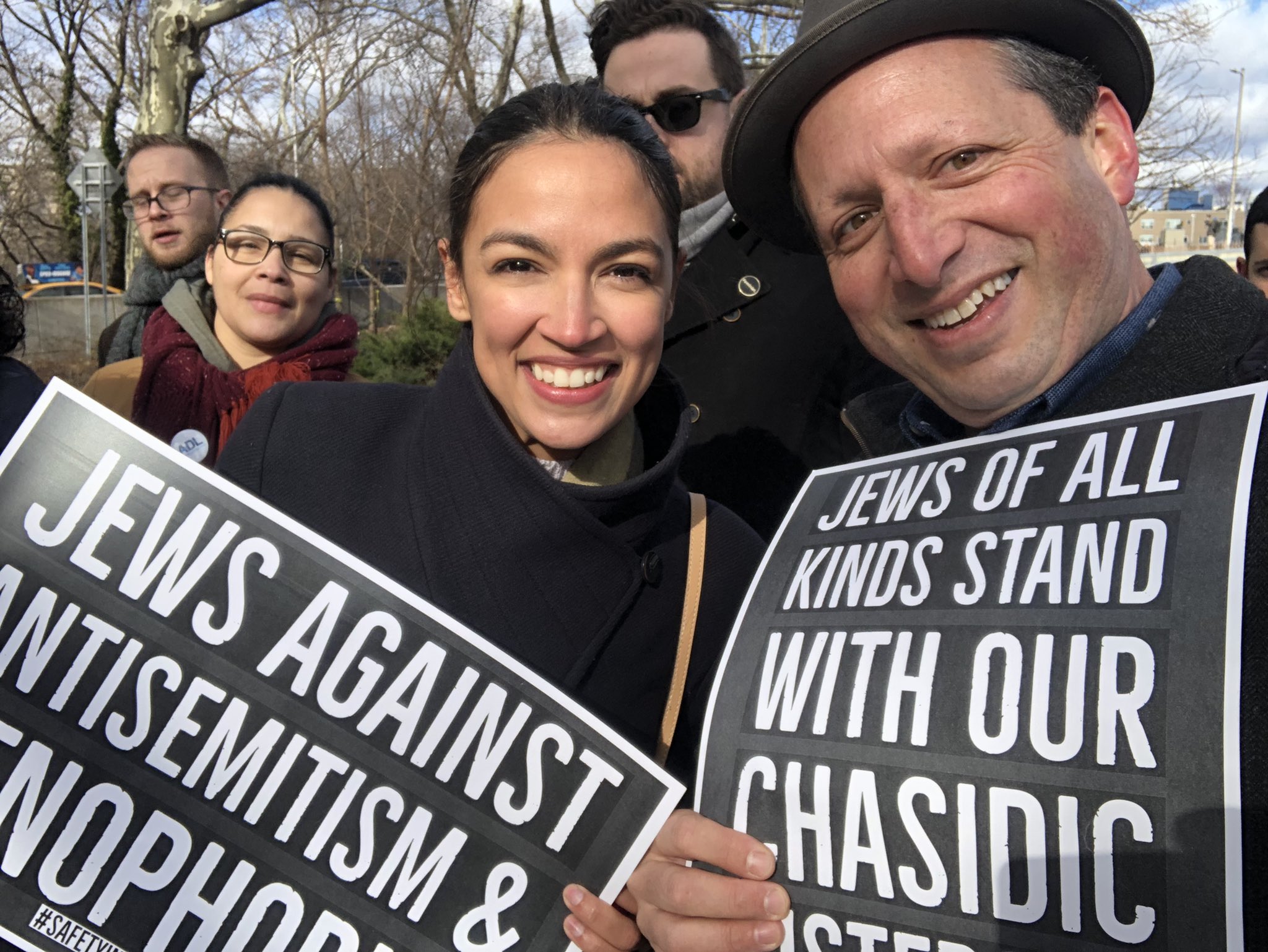 described the internment of children at the border as evoking images of concentration camps.
It's almost too easy to oppose hate generally without taking responsibility for policies that embody it.
The Holocaust understandably looms large in Jewish memory, but individuals learn different lessons. Some learn to trust no one and support a vicious and intolerant nationalism (see the despicable Stephen Miller, who somehow still works in the White House!). But I think most Jewish Americans learned that religious and racial hatreds are easily redefined and redeployed. I hope we can remember that appropriate vigilance against anti-Semitism means being alert to all sorts of racial and religious hatred.
You might not be able to see, from the photos I grabbed off Twitter, that Rep. Ocasio-Cortez's sign calls for opposition to anti-Semitism and xenophobia. I think she got the right message.