The worst thing that's happened to the avowedly non-racist heritage supporters of the Confederate flag this week is the appearance of unwelcome support:  The Ku Klux Klan has been permitted to hold a rally in support of government display of the Confederate standard.
In The Post and Courier, Schuyler Kropf reports that the Klan is well-prepared to fill in meanings between the lines of rather vaguely expressed sentiments about history and heritage.  Kropf called the local Klan's Grand Dragon, Robert Jones, to understand the KKK's attachment to the banner.  Jones explained that the murderer of 9 black people at church was a well-intentioned but misdirected warrior, who would have been more effective targeting more dangerous black people (drug dealers, robbers, rapists).  For Jones and the Klan, the flag is about promoting and protecting white culture and white history.
Supporters of the Confederate flag had been eager to promote a non-racialized version of the heritage symbol.  In this regard, black people willing to wave the flag are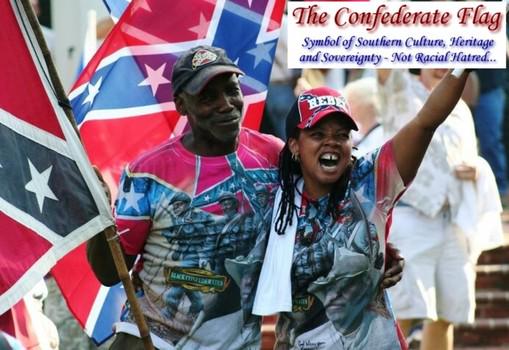 particularly valuable.  And they found some.
And then the Klan comes along and spoils it all.
The planned KKK rally is far more likely to prod legislators into striking the flag than the do-it-yourself efforts of Bree Newsome and James Tyson, which inspired those who already agreed with them.
When the lines are drawn and opinion polarizes, you look around at the people on your side to see if you're standing with the cool kids or the creeps.  After assessing, sometimes you move.