We live in extraordinary times, made so by the threat of tyranny, not of terrorism. When the Trump administration forced implementation of a new set of entry restrictions clearly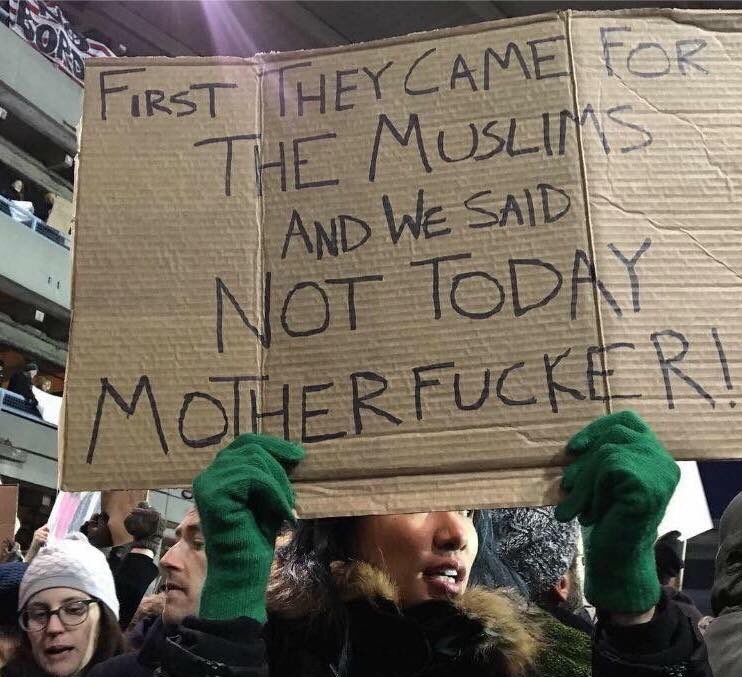 targeted more at Muslims than terror, the responses were massive and virtually instant. When airline passengers from 7 mostly Muslim countries arrived in the United States, they were turned around or detained, including those with visas and even Green cards.
Protesters massed at major airports across the United States to announce their support for both migrants and travelers, and their opposition to Trump.
This is one of those moments that we'll look back at years from now, and ask those who lived through it what they did. That Trump's Executive Order was announced on Holocaust remembrance day, as the anniversary of the Executive Order authorizing the internment of Japanese Americans approached, made it all the easier to see the choices we have before us. There is an America that sent Jewish refugees back to Europe, imprisoned Japanese American families, and turned a blind eye to migrants fleeing wars, poverty, and political oppression. The protesters stood up for another America, one not defined by a skin tone or state religion, but by a inclusive civility that demands a great deal of work. It's a more diverse, more colorful, and stronger America.
When reports of the first detainments trickled out on social media, protesters started showing up at Kennedy Airport, posting livestream feeds and tweeting to others. Only a sliver of those watching and cheering online made their way to the airports of large cities, where international flights arrive. Thousands turned out in Boston, New York, Chicago,
Dallas, Atlanta, Seattle, Denver, Los Angeles, and Washington, DC–surely, elsewhere as well. Lawyers fanned out to offer their services to the detained, and the American Civil Liberties Union filed suit. Several Democratic members of Congress, including Elizabeth Warren (Massachusetts), Jerrold Nadler and Nydia Valazquez (New York), and John Lewis (Georgia) showed up at the airports to try to stand up for due process, support their constituents, and dump on Trump. By the end of the day, two federal judges had issued temporary restraining orders against immediate deportations and detainments.
Trump's communications staff went to the media, awkwardly defending the policy by suggesting that it really didn't inconvenience too many people.
Of course, rights don't work that way. We don't excuse the Japanese internment because it really affected only a small portion of the population, or excuse lynchings or wrongful convictions because they don't happen to many people.
The rapid mobilization was truly remarkable; the massive protest response was very much unlike historical reactions to government restrictions on minorities. It's incredibly encouraging that so many Americans immediately realized something was wrong, and then were prepared to do something about it.
Of course, the Trump administration made it somewhat easier. The drafting, implementation, and political roll-out of the Executive Order was incredibly sloppy.
(Benjamin Wittes offers a detailed analysis, describing "Malevolence Tempered by Incompetence.") It was easy to find immediate victims who had worked for the American military abroad, who were scientists, doctors, Academy Award nominees–and even Christians.
But the activism and politics of the past few weeks of protest mattered as well. It took me about 4 seconds to find the photo at right of pussyhats from last week's demonstrations at the airport protests. Every wave of protest builds networks and social media contacts that can make it a little easier to stage the next event.
So, where are we now? The judiciary has been independent, and federal judges have stood up to the administration. We have to watch to see if the administration complies with the rather limited restraining orders as the cases proceed through the system. Democratic politicians jumped in opportunistically–in the best sense of the word. A scattered few Republican officials have offered mostly tepid cautions about the policy, but most are staying silent….at this writing. We have to demand that the Republican Congress holds a Republican president accountable to the law.
Meanwhile, the democratic opposition movement responded forcefully. It's a strong response to what amounts to a pop quiz for the movement. But the nativist and racist positions of the Trump administration will continue to push policies out of the Oval Office. Next comes the wall.