Protest campaigns usually get much less than what they ask for, but they can still matter.  Take a look at Alexia Fernández Campbell's great piece at Vox on the Kentucky teachers and yesterday's gubernatorial election.
Last year teachers in Kentucky called in sick and marched on the state capital to protest low salaries, poor conditions, and cuts in their pensions. They were part of a larger campaign of teachers protests in red states, which took off first in West Virginia, and then erupted in Oklahoma and Arizona, quickly including activism and strikes in other locales with stronger teachers unions. Kentucky's Attorney General, a Democrat, Andy Beshear endorsed their demands and spoke at some of their rallies.
Last night Beshear claimed a narrow victory over incumbent governor, Matt Bevin. These days, it's big news when a Democrat wins a governor's post in a very conservative state.
Campbell shows how the teachers' efforts last year were part of last night's story. Teachers led the opposition to Bevin's austere budget last year, focusing on proposed changes to their staying out of school and filling the Capitol instead.
Kentucky instituted a pension reform, providing for much stingier payments to new teachers, and cut education spending overall. More than that, Governor Bevin attacked the teachers, even suggesting their strike would mean that more children would be sexually abused. Really. The teachers successfully pressured the overwhelmingly Republican legislature to override
The teachers pulled public focus to their concerns, and underfunded education more broadly, and their efforts forced Bevin and his allies to address their issues–over and over again. Bevin responses, in particular, were incendiary, and helped tank the incumbent's popularity.
Teachers took offense, and thousands poured efforts into Beshear's campaign, contributing money–and lots of time, making phone calls, knocking on doors, driving voters, and holding signs. Beshear encouraged them by putting education at the center of his campaign, promising raises and dedicated funding streams for education.
Teachers aren't the only ones who care about education in Kentucky, and Bevin made enemies on other issues–and lost on style points as well; he was very unpopular. Trying to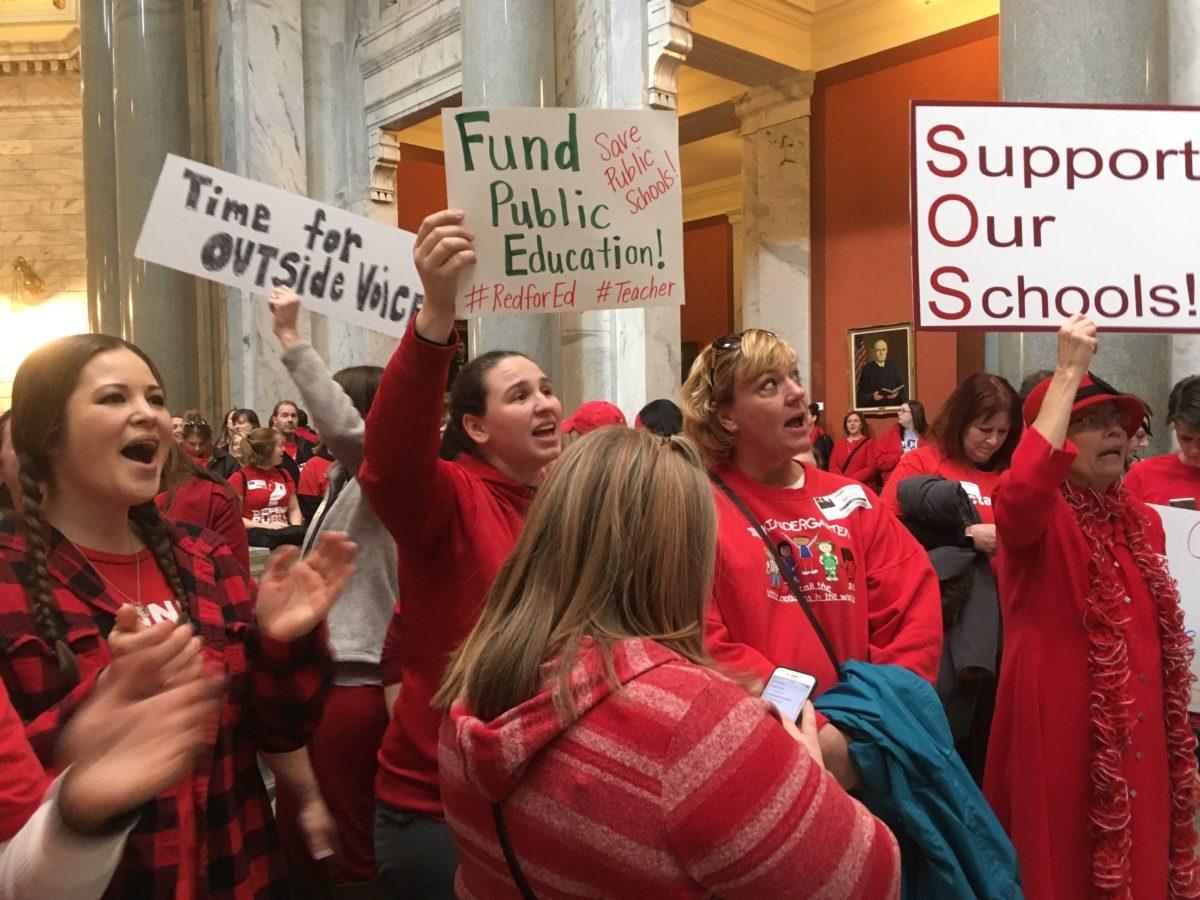 save a Republican ally, Donald Trump appeared at a large rally in Rupp Arena in Lexington, asking voters to support Bevin to support his own presidency.
Beshear, a moderate Democrat whose father had been a popular two-term governor, squeaked to a victory by about 5,000 votes. The teachers should claim some of the credit, but they didn't do it by themselves. And Republicans easily won every other state-wide office, and they maintain large margins in both houses of the legislature. It's not a revolution, a sea change, or a wave election.
The new governor will have a tough time delivering on a large education agenda, but he will make Republicans fight him on education funding and face whatever consequences Kentucky voters are willing to deliver. He'll also be able to weigh in on budgets, voting rights, and drawing new districts. It's not nothing.
Grassroots and activists and Democratic pols rejoiced in Beshear's win. They know it will be easier to get allies to sign onto the education agenda and electoral campaigns. It's hope.
They also hope that Mitch McConnell, nearly as unpopular as Bevin and up for reelection next year, realizes the Democrats can organize in Kentucky, and might show up at the polls.
Social movements affect change, but not all they want, not when they want, and not by themselves.
It's not nothing.