Princeton University is renaming some buildings, awards, and programs, striking Woodrow Wilson's name from its School of Public
and International Affairs, a response to the heightened awareness of structural racism in the United States, demonstrated most literally by hundreds of thousands of people in the streets.
Before two terms as president of the United States, Wilson had been governor of New Jersey, and before that a professor and a president of Princeton University, where he had studied as an undergraduate; sometime in there, he also served as president of the American Political Science Association.
Wilson could claim credit for a lot, including: reducing tariffs; instituting an income tax; establishing federal institutions to regulate trade and labor; appointing the first Jewish Supreme Court justice, Louis Brandeis; promising to stay out of foreign wars; getting the United States into World War I; successfully supporting woman suffrage; and unsuccessfully supporting the League of Nations. (The record continues to provoke critics from across the political spectrum; Glenn Beck blames Wilson for beginning the end of the American ideal.)
Wilson also instituted reforms in the curriculum and social life of Princeton University; Princeton credits him with establishing a departmental structure for its faculty, whose numbers he increased dramatically, instituting a more dynamic approach to education, and diversifying the faculty by hiring the first Catholic and Jewish professors.
Wilson was also a committed white supremacist, as Princeton President Christopher L. Eisgruber notes:
Wilson's racism was significant and consequential even by the standards of his own time. He segregated the federal civil service after it had been racially integrated for decades, thereby taking America backward in its pursuit of justice. He not only acquiesced in but added to the persistent practice of racism in this country, a practice that continues to do harm today.
You can read about Wilson's substantial and decidedly mixed legacy in a special report commissioned by Princeton's Board of Trustees in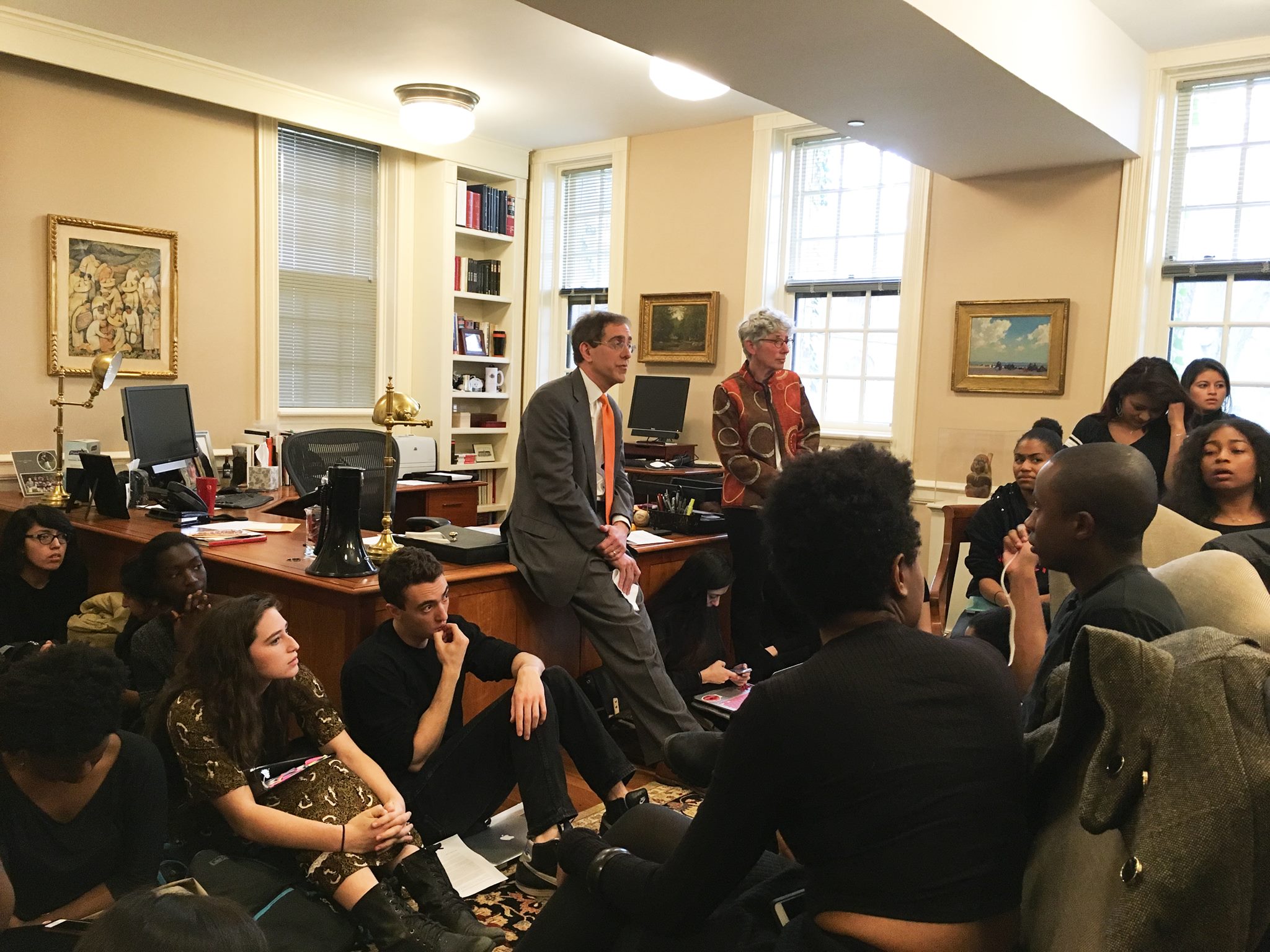 November of 2015, a response to the occupation of President Eisgruber's office.
Students then were protesting institutional racism at Princeton, as at scores of other campuses, focusing on curricula, student and faculty diversity, and monuments of all sorts. The students–everywhere–walked out of classes, staged large demonstrations, and made demands.
At Princeton, the special committee to consider Wilson's legacy was Eisgruber's first response to the 2015 protests. The committee did not call for striking the name, but instead recommended providing a fuller accounting of the Wilson legacy, and diversifying the "iconography" of Princeton's history on campus. It also recommended adopting reforms that would diversify the campus
by recruiting and cultivating a wider range of students into a wider range of programs. And Princetonians didn't stop protesting.
Even relatively modest institutional reforms can have longer term effects. When a series of well-publicized racist killings provoked national concern and widespread protests, students no longer had to push all that hard in Princeton to change the names so vigorously defended not that long ago.
The effects of recruiting and curricular reforms were barely visible outside the campus, but they changed the conversation inside. Wilson's record didn't change in the last five years, but the balance of  concerns when considering what was worth commemorating did.
So, social progress takes place slowly–then suddenly, because it's too easy to ignore the less dramatic, slow stuff. The students who occupied the president's office in 2015 won–but only after they graduated.
Note: I wish I were the first to coin the phrase, slowly, then suddenly, but lots of authors have experimented with a similar construction. In The Sun Also Rises (1926), Ernest Hemmingway allows a character to explain how he went bankrupt: "Two ways. Gradually and then suddenly."
More recently, in The Fault in Our Stars (2012), John Green has a character describe his romance, "I fell in love the way you fall asleep; slowly, and then all at once."
I guess waking up is like that too.