I was surprised and delighted to see that Mr. Ratburn, a demanding and very caring third grade teacher in the cartoon town of Ellwood City, has found love and gotten married. Mr. Ratburn is mostly a supporting character in PBS's Arthur, a wonderful children's television show centered on a bunch of anthropomorphic animal children. Based on the already classic children's books by Marc Brown, it's run for more than twenty years.
I loved watching it with my kids when they were of age. We even got to meet Marc Brown when he visited town to sign books at A Whale of a Tale, our favorite childen's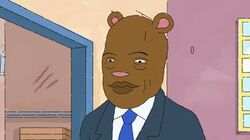 bookstore. Brown was a little shy, but warm, and clearly very kind–like the tv show. He said he wanted children to see a world in which they would be loved and accepted. Alas, I stopped watching when my kids grew out of cartoons. (I missed, for example, the guest appearance of Representative John Lewis [at right], as a cartoon bear congressman.) Sigh!
In the new story, the third graders are worried when they think that Mr. Ratburn will be marrying someone harsh and demanding, particularly concerned that their teacher will take out his frustrations on his students with more onerous homework assignments. They're happy to learn that Mr. Ratburn's partner is someone nice, an aardvark who makes chocolate. No Supreme Court cases are quoted, and the word "homogamy" doesn't come up. At end, the children are troubled only by how poorly the adults dance.
The nonchalance about the Ratburn nuptial reflects and promotes changing social attitudes. A court legalized same sex marriage in Massachusetts just fifteen years ago, and the decision, Goodrich v. Dept. of Public Health, 798 N.E.2d 941 (Mass. 2003), generated a harsh blowback from religious conservatives.  Fewer than a third of Americans then supported same sex marriage, and the Goodridges paid a price for leading the way. But the world changes, and the arc of the moral universe can be bent toward justice.
These days, just over 60 percent of Americans support same sex unions, including only about 44 percent of Republicans. It's not surprising that religious conservatives used the show to rail about both deteriorating social norms and funding public television (like this or this), but the criticisms were not echoed in more mainstream outlets, and there's no report that PBS refused to air the show anywhere.
When it becomes a little easier for gays and lesbians to come out, more people are able to see that they already know friends, family, and coworkers with different sexual orientations. More people, gay and straight, have attended same sex weddings–just like the one in Ellwood City. This makes it a little bit easier for gay people to come out….and so on.
At the moment, there are mixed signs of progress. Pete Buttigieg, an openly gay candidate for the Democratic presidential nomination take much more flack for his experience and his ideas than his sexuality. (Note: an effort to fabricate evidence of his sexual immorality collapsed in spectacular fashion.) But today, May 17, the House of Representatives passed legislation affording protection against discrimination to LGBT people, but the bill is extremely unlikely to make it through the Senate, and only 21 states prohibit discrimination on the basis of sexuality.
The Ratburn marriage is a small step forward in what will continue to be a very long march.