It felt good to see this new picture, posted on Twitter by both Malala Yousafzai and Greta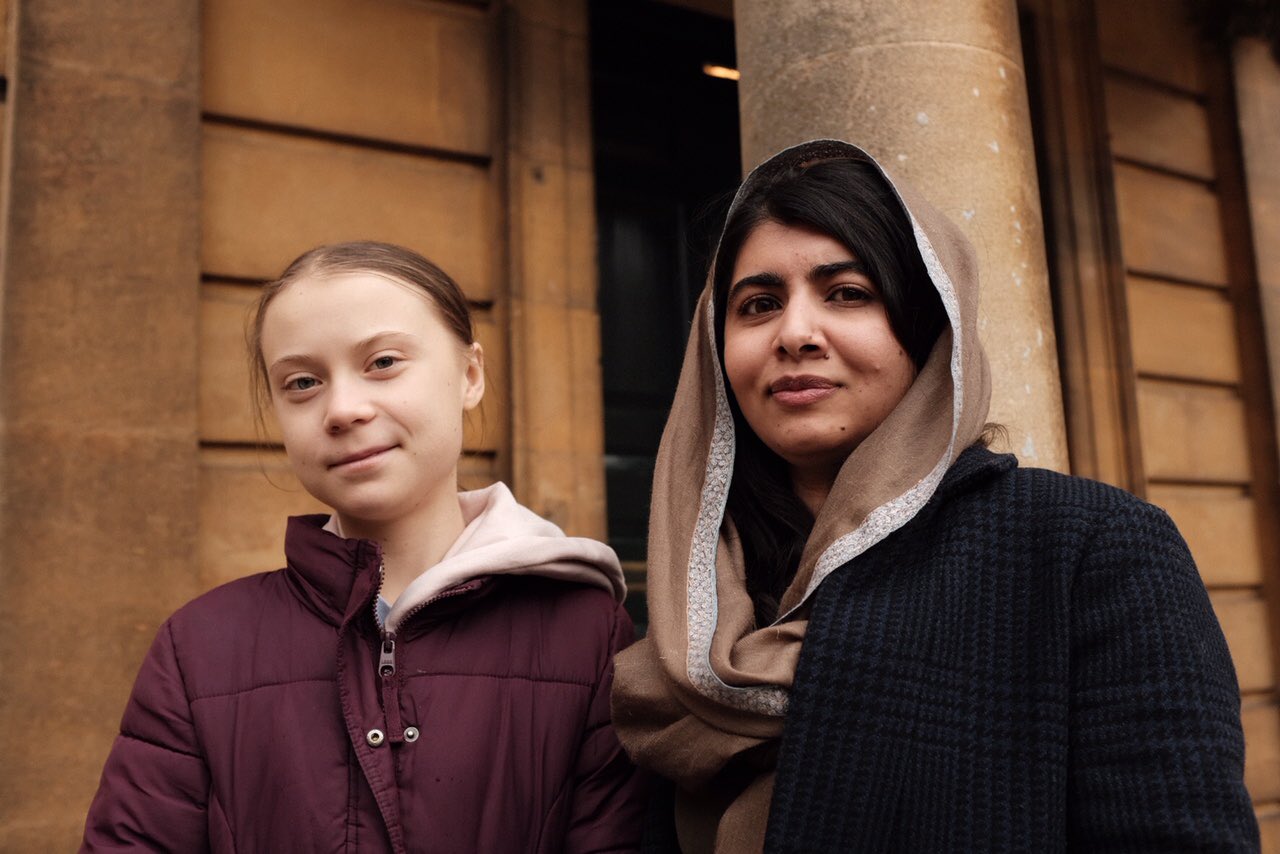 Thunberg.
Malala,  now  23,  has  been  a crusader  for  human rights, particularly educating  girls  in  Pakistan.  She's paid a severe price for her advocacy, shot in the head by a religious fundamentalist. Since recovery, she's stepped up her efforts, writing, speaking, and appearing in virtually every public venue that might reach people. She won a Nobel Peace Prize in 2014, and she's not done.
Greta, now 17, describes Malala as an inspiration and role model. For the past few years, Greta herself has been an inspiration and organizer of global student strikes for action on climate change. Greta, passionate in advocacy for the planet and for young people, has been a powerful and compelling presence in the movement for climate change action. She has been tireless, focused, and she and her family have been candid about Greta's Aspergers's diagnosis, and her struggle with an eating disorder.
Greta's focus and the support of her family and a larger movement, have helped her become a focal point for the movement. She's been ridiculed by Donald Trump, and nominated for a Nobel Prize herself. At times, media portrayals use her to obscure the great many young people globally who are similarly engaged. At left, see the young Ugandan activist, Vanessa Nakate, who was conspicuously cut out of a portrait of young climate change activists so that only white girls remained.
Vanessa cites Greta as one of her inspirations, and Greta has worked to share her spotlight with the much larger movement–and other youth activists. She also cites the Parkland kids, who organized March for Our Liv
es, as inspiration.
And, while a few  of  the  activist  survivors  of  the Florida  shooting  have  gotten  lots  of  attention,  they  really are  a part  of  a much  larger  group  of  young  activists  around  the  country.
Young people are often at the forefront of major social movements, bringing passionate focus, commitment, and an image of innocence and authenticity.
If youthful activists are a tremendous resource for social movements, it doesn't mean that every movement has equal access to them. Seeing the power and possibility of teen crusaders for gun safety and climate change, conservative opponents have been willing to look very hard for their own young activists, aggressively promoting their own alternatives.
If you can't beat 'em, buy 'em.
It doesn't always go well. Jonathan Krohn, a 13 year-old star speaker at the Conservative Political Action Committee's 2009, got speaking invitations and published a book endorsed by Newt Gingrich and William Bennett while still in high school. But Jonathan came to question his conservative stance, calling his teen politics "naive," and suggesting that he was likely to vote for Barack Obama.
Kyle Kashuv, a conservative teen survivor of the Parkland shooting, gained a national profile–at least in conservative circles, for arguing against stricter regulation of guns on Fox News. When Harvard University accepted the honor student, classmates at Stoneman Douglas publicized particularly ugly racist and sexist comments Kyle had made about his classmates on social media; Harvard rescinded admission.
A movement's poster children can fail in all sorts of ways, with ignorance, inconsistency, or insistence on linking offensive positions on other issues.
We're not done yet:
Seeking its own Greta, the Heartland Institute, a right wing climate denial shop that does not disclose its funding, has hired its own young blonde European spokesperson, 19 year old Naomi Seibt. Seibt says that she came to politics a few years ago, frustrated that her teachers were defending Germany's policies of welcoming immigrants, including refugees.
Naomi is also skeptical about feminism and the scientific consensus on climate change. She came to the American right's attention after speaking at an event sponsored by the right wing nationalist Alternative for Germany (AfD).
Recognizing that an outspoken and articulate teen climate skeptic is more rare than another Greta or Vanessa, Heartland put her on the payroll, sponsoring Naomi's appearances at conferences and publicizing her Youtube channel.
Listen to what they say and consider the source.
It's worth noting that Naomi, on Heartland's dime, urges her audience to take her scientific speculations seriously and question the conclusions of scientists, who are basically untrustworthy. She argues against taking dramatic action that might hurt the fossil fuel industry which, along with libertarian conservatives, funds the Heartland Institute.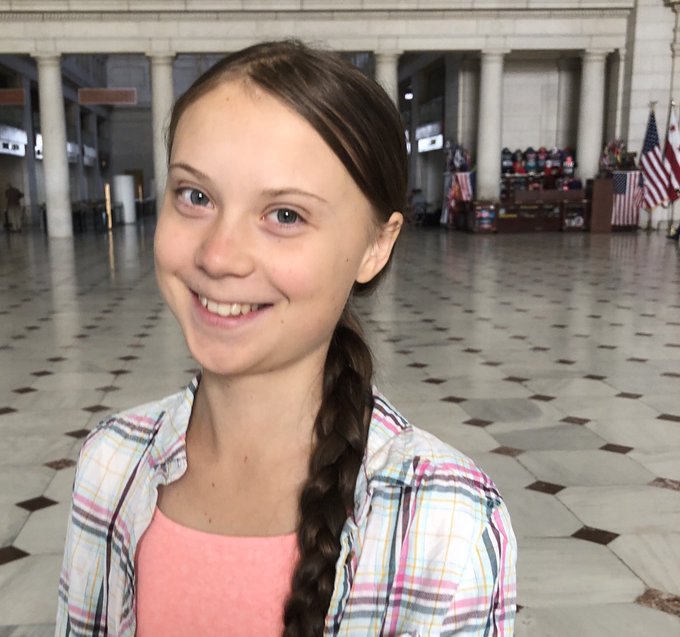 In contrast, Greta, sponsored by her parents, says that she's a kid, not a scientist. Her advice has been consistent: "I don't want you to listen to me, I want you to listen to the scientists."