San Francisco 49er quarterback and national anthem dissenter Colin Kaepernick stands to earn more than $10 million this year, and most of it is guaranteed–unlike the contracts for most professional football players. This very substantial sum belies the very serious risks Kaepernick is taking by standing up, sitting down, or kneeling for his beliefs.
Something less than a handful of professional athletes have thus far joined the quarterback in his protests. Partly, it's likely that many don't agree with his ideas or his actions. Surely, however, another obstacle to action is a real fear of retaliation. Professional football is an extremely difficult and dangerous way to earn an immense amount of money, and it's not a career path that's available to many people or for very long. Coaches and general managers, themselves under great pressure to win, try to avoid troublemakers–and the new attention to the anthem is certainly trouble. Exceptional performers can get away with a little bit more than those deemed to be more replaceable. There are many accomplished and committed people ready to do the job who won't make trouble, as people who might make waves are constantly reminded. Kaepernick surely knows that he could be replaced by someone who won't unite a massive crowd in coordinated booing. This replaceability is true on the field, on a movie set, and virtually anyplace else that there isn't tenure.
Soccer star Megan Rapinoe followed Kaepernick's lead, making her own gesture of supporting, a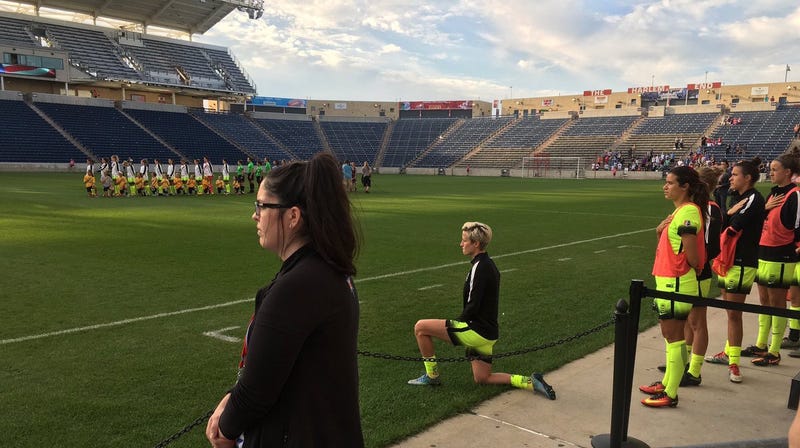 dding her own concerns about injustice in the United States:
I think it's actually pretty disgusting the way he was treated and the way that a lot of the media has covered it and made it about something that it absolutely isn't. […] Being a gay American, I know what it means to look at the flag and not have it protect all of your liberties. It was something small that I could do and something that I plan to keep doing in the future and hopefully spark some meaningful conversation around it. It's important to have white people stand in support of people of color on this. We don't need to be the leading voice, of course, but standing in support of them is something that's really powerful.
Football players who might have followed Kaepernick were reminded that such actions could jeopardize their careers, which are always even more tenuous than they appear. Richard Sherman, a star cornerback on the Seattle Seahawks, was clear in expressing support for Kaepernick's concerns, even as he steered clear of taking on a similar protest. When asked about his advice to teammates who might have similar concerns, Sherman emphasized awareness of the risks: "Every action has an equal or greater reaction, and there's going to be criticism. There's going to be backlash. There's going to be people behind screens that will judge you, that will criticize you, and you've got to be ready to deal with that."
It's not just a professional career that's at risk, but a means of livelihood afterward. Taking a stand against the anthem is hardly an effective way to secure endorsements or motivational speaking engagements at corporate retreats afterward. Stepping into the political spotlight can also expose far more about an individual's political commitments and ideas than most of us are ready for. Thus far, Colin Kaepernick has tried to step up to those challenges.
Nate Boyer, formerly a Green Beret, and a veteran of both combat and a very brief professional football career, published an open letter in Army Times trying to make sense of his own complicated feelings about Kaepernick's actions, and inviting engagement. The quarterback responded by inviting Boyer to last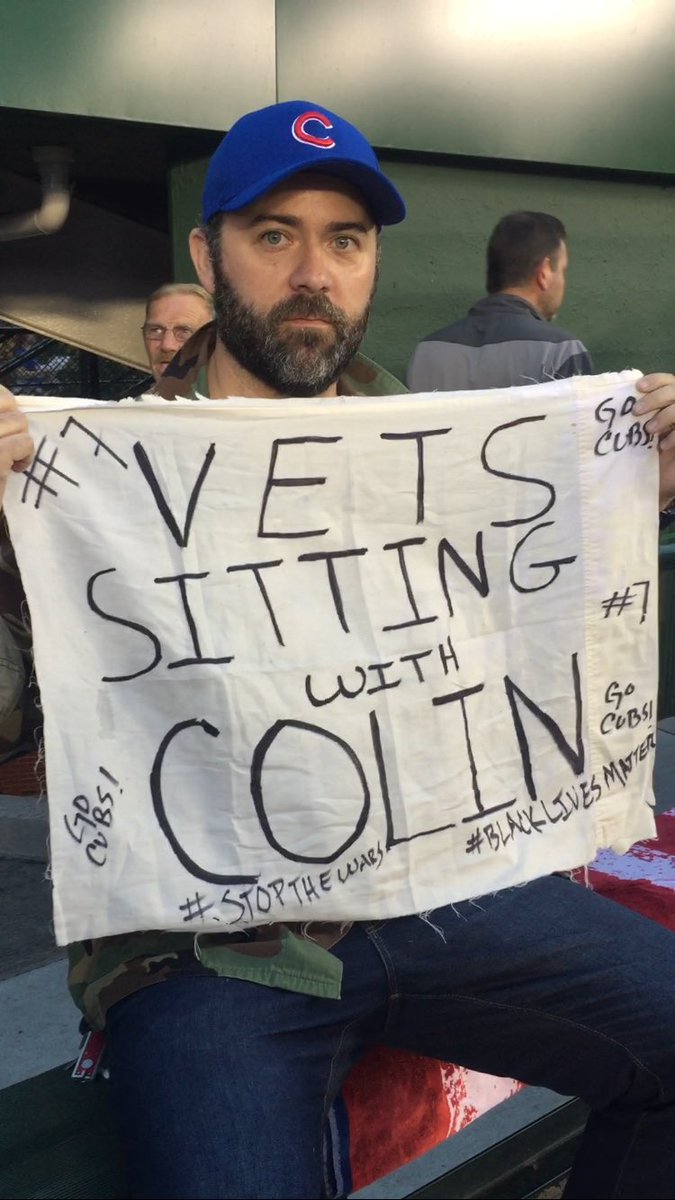 Thursday's game, and talking in detail about his issues and his options for action. When the anthem played, Boyer stood next to Kaepernick and teammate Eric Reid, who were kneeling, trying to signal respect for their country in conjunction with their concerns. Kaerpernick was visible in applauding the veterans honored that night, following the singing of "God Bless America" (a better national anthem I think; John Legend suggests "America the Beautiful"–even better).
Nate Boyer wasn't alone; many veterans tweeted support for Kaepernick's right to protest. Look for #VeteransForKaepernick and you'll find pictures of servicemen and women and veterans of all backgrounds, deployed and at home, emphasizing their commitment to first amendment rights.
Between the kneel and the applause, Colin Kaepernick tried to navigate a course in which his gestures would signal both respect and concern. He found himself in a harsher spotlight than his passing alone would invite. Kaepernick emphasized his commitment to do more than complain, announcing that he would donate the first $1 million of his salary to community organizations–just about a tithe–starting with $60,000 worth of backpacks to school children in Harlem and the South Bronx. The criticism may have loosed the donation, but the money won't stem the criticism. It's worth asking how many of his critics–or the rest of us for that matter–are tithing in support of the causes we claim to support.