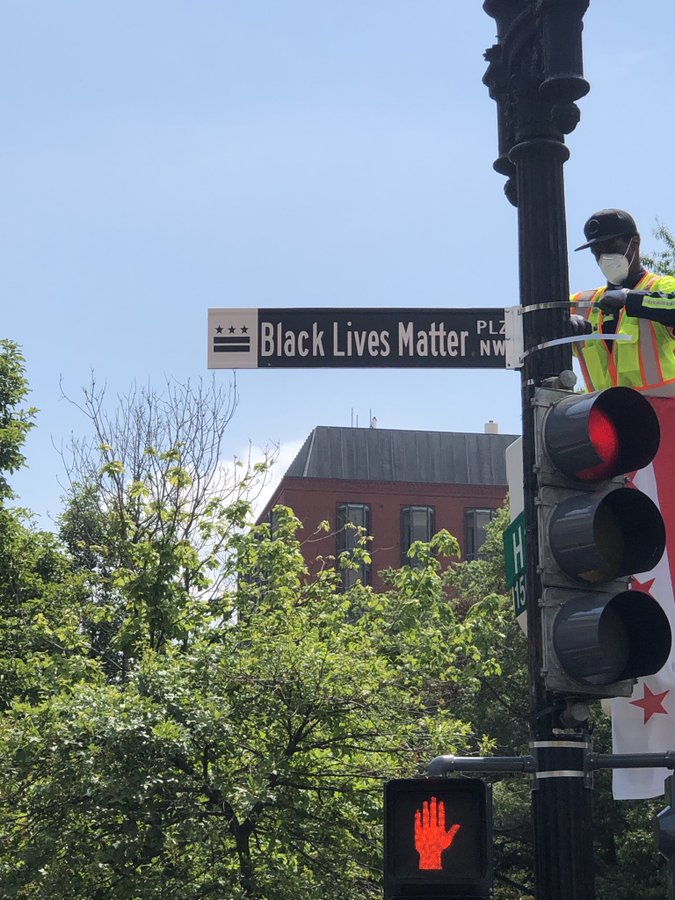 In an expression of commitment and principle, served with a chaser of trolling for the president, Mayor Muriel Bowser renamed the plaza in front of the White House, and commissioned artists to paint BLACK LIVES MATTER in broad capital (or capitol?) letters on 16th street.
Black Lives Matter started as a hashtag after the acquittal of the neighborhood watch wannabe cop who killed Trayvon Martin, a Black teen, just about 7 years ago. The hashtag came to unify local protests against police violence and activist efforts to raise the issue in political campaigns.
Mayor Bowser's actions represent a kind of progress and institutionalization of the movement and a set of concerns, and a broadening of support. Alas, that support and growth comes from a series of high profile killings and the consistently egregious rhetoric and conduct of the Trump administration. It's a painful kind of progress.
Police at some of the demonstrations have knelt–on their own or next to activists–to offer some kind of support to the protests against racialized police violence.
The image at right is from Coral Gables, Florida, but you can find similar pictures from across the country. Note that kneeling on asphalt, not a man's throat, hasn't stopped many many of those same police officers from kettling, harassing, striking, or arresting non-violent protesters.
How did taking the knee come to be a symbol of the cause? Colin Kaepernick, philanthropist and former football player, didn't feel comfortable saluting a flag that he saw as a front for racialized police violence. Initially, he sat on the bench during the anthem before a game. Nate Boyer, formerly a Green Beret, suggested that taking the knee might be a more effective and respectful way of lodging the protest; Boyer stood with Kaepernick. That's less than four years ago, and while Kaepernick sacrificed his athletic career for the cause, the National Football League continues to struggle to accommodate the increasingly vocal concerns of its players, as larger numbers of players–and now, even some white quarterbacks–demand action on racial justice. I daresay none will have to make the sacrifices Kaepernick has. That's influence.
Meanwhile, some Southern mayors and governors have begun taking down those statues commemorating Confederate Civil War heroes. Remember that a local battle over taking down a statue of Robert E. Lee was the initial flicker that attracted the Unite the Right stew to Charlottesville nearly four years ago. Campaigns about
statues scattered across the South over the past few years, but removing the monuments hasn't been an obvious concern of the current round of protests. Still, the protests provided incentive and cover for political leaders to do something–even if not exactly what the protesters were asking for. (At left is a statue slated to be removed from public property in Bentonville, Arkansas, and relocated to a private park.)
Social movements matter, but usually not just as the activists who make them intend. The pathways to influence meander back and forth across issues and campaigns, and everything takes longer than it should.
Organizers grow to develop a restless and persistence patience in remaking the world.