Bad policing poked an old open wound in American life, one that had suffered continual poking and scratching over the past few weeks, months, years, and turned thousands of people out into the streets in protest.
Bad policing of the understandably angry public reaction to police violence will keep people protesting, and increase the damage to all of us.
If most people thought the police officer who knelt on the throat of George Floyd for nearly 10 minutes was a rogue cop who would be swiftly punished, they would not have poured out into the streets of Minneapolis when Floyd's death was not followed by immediate arrests and indictments.
If people across the rest of the United States thought that racialized police violence was limited to Minneapolis, protests would not have spread across the country.
Outrage about the almost casual killing of George Floyd was the trigger for protests. Demonstrators called for arrests and criminal charges but, judging from the signs and chants and statements, they want much larger reforms, not only in the criminal justice system, but in the larger political and economic world.
People will march when they believe its necessary and potentially effective in getting what they want. If there's an easier and more direct way to influence policy, most people will opt to take it.
Now, there are people in the crowds who want to press for reforms. There are also people who believe that the economic and political system is so corrupt that reform is impossible. Now and virtually always, most people want to avoid violence–but not everyone.
Once masses of people turn out to exercise their free speech rights, police need to protect themselves, the marchers, and bystanders. Police need to help and protect peaceful protesters, while isolating and containing violent actors–including police and counter-demonstrators.
This is a tough job, but police should enjoy the advantage of superior equipment, training, and coordination. They face the additional challenge of showing that gratuitous police violence, like the killing that spurred the protests, is unacceptable.
Many of the early police responses to the difficult challenge of maintaining public safety give marchers every reason to believe that racism is a feature, not a bug, in the police and criminal justice system:
Driving a police car through an unarmed crowd (New York City).
Violently throwing a smaller person to the ground (New York City)
Tear gassing or pepper spraying unarmed protesters–including a member of
Congress (Columbus, Ohio).
Firing rubber bullets on distant crowds (Los Angeles).
Targeting journalists, particularly Black journalists, with arrests, bullets, or gas (Minneapolis).
Ripping the mask off a black man whose hands are raised to pepper spray him in the face (New York City).
If there's a strategy behind these harsh responses, it's to make protesting so difficult and dangerous that people will be scared to come out. It's harsh, fundamentally undemocratic, and very dangerous. It's also unlikely to work.
Certainly, it's the approach embraced by the president of the United States, who, cowering beneath the covers of layers of secret service protection, bragged about the "ominous weapons," "fierce dogs," and agents eager for action.
The language and the action all work to polarize further a deeply divided population.
But some police officers and departments have tried to treat the protesters with respect and sympathy.
Officers in Santa Cruz joined their chief in kneeling (on  the sidewalk–not  a football  field  or  a person)  to  express  their  own 
protest  against  police  violence.
The Genesee County Sheriff asked protesters how he could support their efforts, and at their invitation, joined the march in Flint, Michigan.
In Kansas City, officers joined the marchers, holding signs protesting police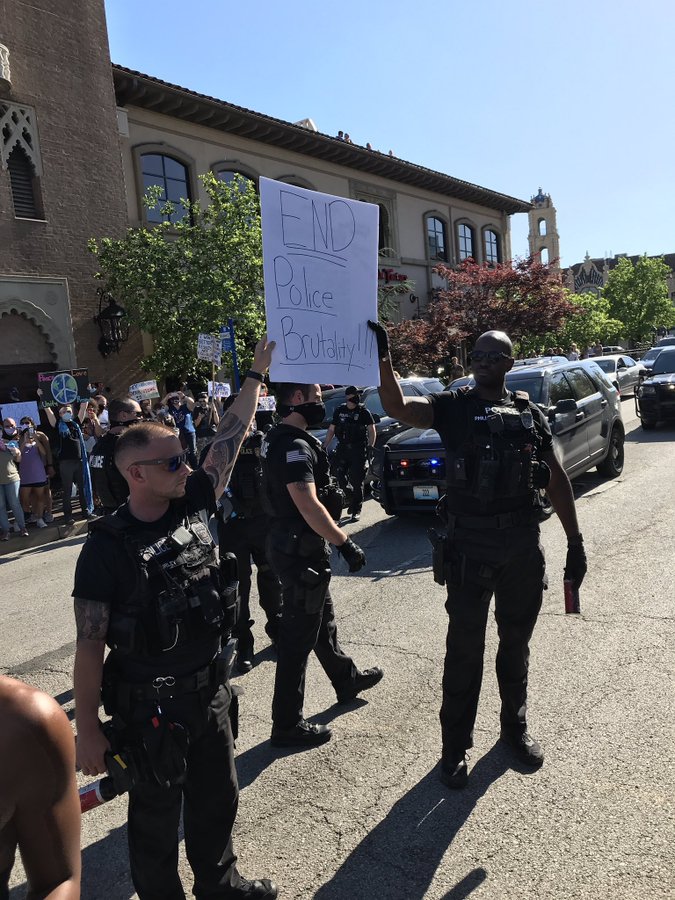 violence.
Police chiefs in Atlanta and Houston have made a point of going out to talk to demonstrators–and to listen to them, expressing support for their concerns, and promising to help them demonstrate safely.
To be sure, gestures of sympathy won't convince all the marchers that the police are really committed to the cause, but such efforts make it harder to mobilize large numbers to fight, break windows, or attack cars.
But small numbers of people can do a lot of damage. Windows have been broken, cars have been burned, and stores have been looted.
Reluctantly, I deploy the weak passive voice above because there are different explanations of just who is breaking windows:
Frantic and undisciplined individual demonstrators
"Outsiders" determined to make trouble.
Undercover police and agents provocateurs
Sinister antifa organizers looking to do damage
Right-wing white nationalists hoping to provoke a race war
Good evidence is scarce at the moment, but anyone who knows a little history would be prepared to believe that all of these groups are poking, trying to exploit the moment.
It's all scary, first, because authorities use violence as an excuse to crack down on civil liberties and impose harsh measures.
Second, because violence gets in the way of addressing real systematic deficits in our criminal justice system.
Third, because we are still in the middle of a public health emergency, and it seems quite likely that the crowds and confrontation will help spread a virus to communities that are already suffering.