Dramatic, often confrontational, protests by small groups to "open up" seem to be working.
The protests certainly haven't enjoyed the support of most Americans. A substantial majority of Americans oppose a quick lifting of restrictions on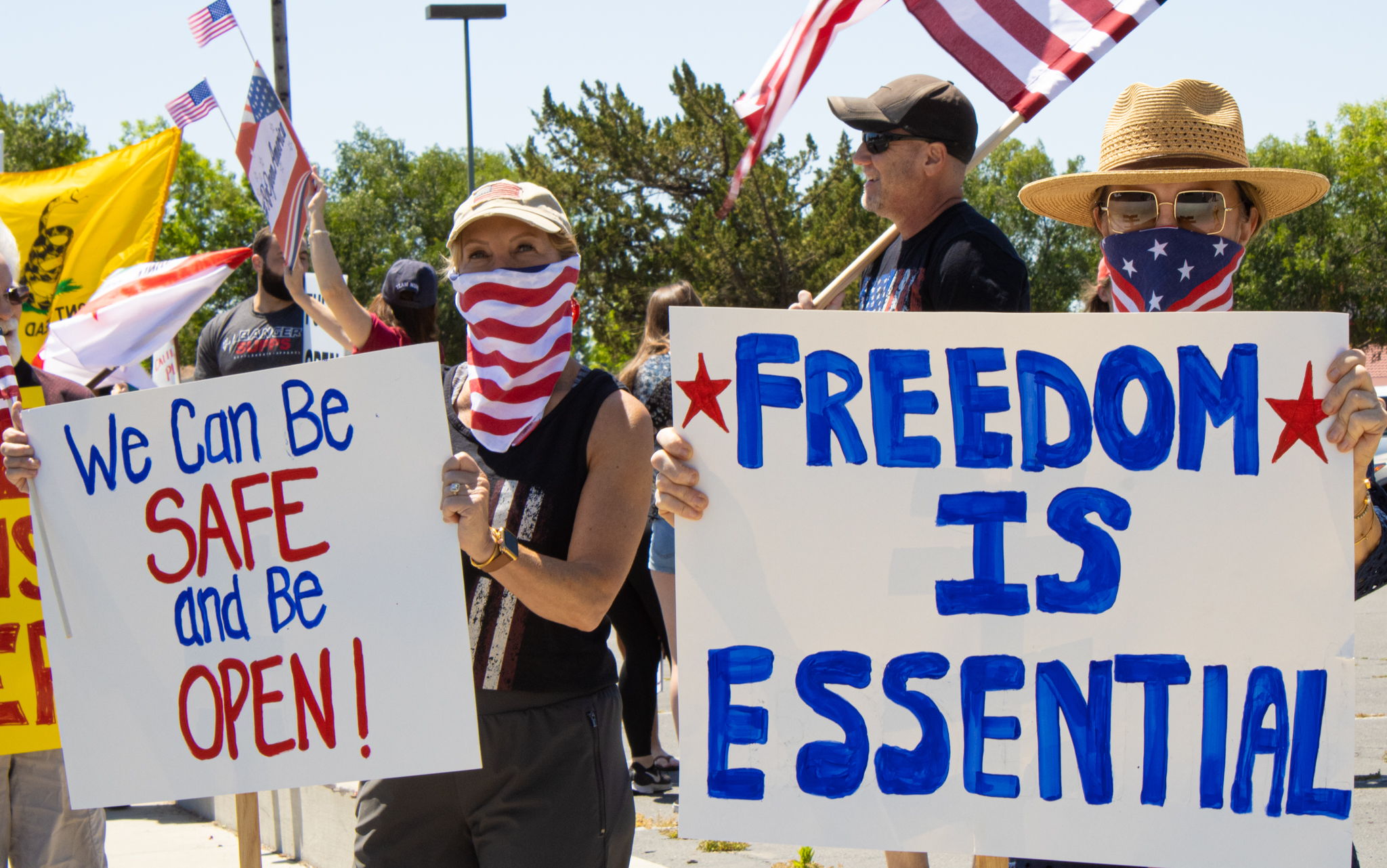 public life and are far more worried about the health consequences of COVID-19 than of the economic damage caused by the shutdown.
But most states have begun with at least a partial reopening of public spaces and businesses. Some, like Georgia, have commenced opening before coming close to meeting any of the standards laid out by the White House (e.g., declining rate of infections). Actually, no states
are close to meeting those White House standards right now, and the Trump administration has vigorously rejected the guidance for reopening America that it had requested from the Centers for Disease Control (CDC). (Icebergs be damned, full steam ahead!)
Even the states that implemented the strongest restrictions on public life, like California and Ohio, have begun public discussions of how to reopen.
Michigan governor Gretchen Whitmer, the target of disgruntled protesters, the Republican state legislature, and the president of the United States, announced that she would not be swayed by racist-inflected protests outside her office (swastikas, nooses, and Confederate battle flags!), and that she would continue to heed the advice of public health experts and epidemiologists. But, even as she extended her stay-at-home orders, she also announced relaxing some restrictions and the reopening of manufacturing plants in the state.
In Wisconsin, another Democratic governor facing a Republican legislature is facing not only hostile protesters, but also a state supreme court that seems decidedly unsympathetic to his claims about protecting public health.
No politician will admit that she changed course on policy in response to determined and disruptive protests (as with all movements), but policy is certainly moving toward an opening up.
Is this what victory looks like?
The real story is more complicated, of course, and is still developing, but here's a chance to look at the way protest campaigns, even unpopular ones, can influence policy.
A few qualifications:
First, no one wants stay-at-home orders to last forever. From the moment they issued such orders, politicians and public health officials began planning for ways to end them safely. There was always going to be a balancing of competing priorities. Maybe, this is what would have happened anyway?!
Second, the protesters were hardly alone in calling for a restart for public life. Chambers of Commerce, Donald Trump, and conservative pundits have pushed the idea that protecting the economy had to take priority over strict public health measures. And campaigners for relaxed restrictions did more than just protest: they lobbied legislators, broke laws, called and wrote officials, filed lawsuits, and made their case in mainstream and social media.
[More than that, protesters assaulted state houses with many goals. At least
some of the Michiganders were worked up about gun rights; lots of the Californians were angry about vaccines.]
(Note: This is always the case for successful social movements in America; protest doesn't work by itself.)
Third, lifting formal restrictions on public activity is a long step away from resurrecting the social and economic life of just a few months ago. It's not just hand-washing and masks wearing practices that will change: who wants to go to a movie, get a massage, or ride a crowded city bus? (Someone will, but not near enough people will take the risks to keep most businesses viable.)
Fourth,the costs and consequences of restrictions, relaxed or not, play out differently in different parts of the economy and regions of the country. People
who have found ways to work safely at home will surely continue to do so….at least a lot of the time. But those who feel unsafe in their workplaces–either because of work conditions (meatpacking plants?) or personal vulnerabilities (age, health, e.g.) will face inexcusable pressures.
There has already been resistance to new rules from all sides. Pressures to work in unsafe conditions will provoke resistance, leading to sick-outs, no shows, and union organizing.  Disgruntled citizens have also chafed at public health restrictions imposed by stores and restaurants; we've already seen alarming violence in reaction to required masks.
Fifth, the battles over public health and public life will play out against the consequences of a global pandemic sweeping across American states. people will listen to stories from friends, relatives, and (of course) strangers online; newspapers and academic institutions will continue to post numbers of infections, hospitalizations, and deaths.
Those numbers and those stories will matter, particularly if they increase as virtually public health expert predicts. And they'll matter more if those economic improvements disappoint, as virtually every economist predicts.
While celebrities and some politicians seeking to comfort remind us that we're all in this together, the emerging battles seem to suggest otherwise. We are still distressingly early in what will be a long and painful political struggle.
(Note: thanks to Fernando Tormos-Aponte for provoking this piece.)