It's not like the racial justice protests stopped; they just stopped getting as much attention, particularly if activists were disciplined and not destructive. And racialized police violence certainly didn't stop, as the taped police shooting of Jacob Blake in Kenosha, Wisconsin,
tragically demonstrates. But national attention shifts, back to Covid-19, to the Democratic and Republican conventions, to the economy, or just to managing daily life.
Citizens have been thoroughly primed to respond to the next tragedy that comes to light and, alas, they keep coming. After the video of police officers shooting Blake in the back seven times circulated across social media, angry residents occupied the streets, marching, chanting, and demanding something better. And, particularly late at night, a few demonstrators have started fires, and Kenosha's police overreacted in kind, unleashing tear gas and rubber bullets. This is how a demonstration now looks like a riot.
It wasn't just police and protesters for very long. Well-armed white men showed up announcing that they would defend property against the protesters. Semi-automatic weapons are prominent in all the pictures, making a makeshift militia that is neither disciplined or well-organized; people who agreed showed up. And Kenosha police welcomed them, expressing thanks and providing water.
A teenager from a neighboring state fired his AR-15 at demonstrators, killing two men, and critically wounding a third, and then walked away as police stood by. So much is wrong here: police deference to armed gunmen; a seventeen year old illegally transporting and sporting a semi-automatic weapon in public; stories of that murderous boy posting racist tropes on social media, attending a Trump rally, effectively encouraged by national politicians and local law enforcement; harsh policing and a stark divide between the police and the citizens they're supposed to protect.
And it all keeps happening.
Then professional basketball stepped in. The first piece I saw was Los Angeles Clippers coach, Doc Rivers, give a press conference after a playoff game in which he reacted against the fear promoted at the Republican convention when, after all, it's Black people who are being hurt. He said:
It's amazing why we keep loving this country, and this country does not love us back. It's really so sad. Like, I should just be a coach. I'm so often reminded of my color. It's just really sad. We got to do better. But we got to demand better. It's funny, we protest. They send riot guards. They send people in riot outfits. They go up to Michigan with guns. They're spitting on cops. Nothing happens.
Rivers isn't the first coach to speak out on racial violence: Steve Kerr and Greg Popovich have also been forthright and public about racism, the current president, and the moment. (I'm struck that both Kerr and Rivers played for Popovich toward the end of their athletic careers, and imagine that conversations went beyond how to handle an opposing team's pick-and-rolls.)
Then the Milwaukee Bucks, who were leading in the playoff series against the Orlando Magic, decided it was no time for games. In a powerful statement, the team announced that they had to do something more.
Bucks guards George Hill and Sterling Brown spoke for the team, demanding that the Wisconsin legislature return and take meaningful action against police violence. (That may not happen so quickly.) The team didn't take questions, and left asking viewers to educate themselves and the problem, and promising to do the same.
Orlando refused to accept the Bucks' forfeit, announcing their own boycott. Then all the other teams scheduled to play playoff games joined the action off the court. When workers refuse to do their jobs for a political cause, it's properly called a strike. But these players had the support of management.
Almost immediately, the vice president of the Bucks, Alex Lasry, tweeted his own statement, supporting the players, "Some things are bigger than basketball. The stand taken today by the players and org shows that we're fed up. Enough is enough. Change needs to happen. I'm incredibly proud of our guys and we stand 100% behind our players ready to assist and bring about real change." The team's owners supported Lasry and the players.
It's not so surprising that the National Basketball Association supported the players and the cause. Remember, the Miami Heat wore hoodies in 2012 to prote
st the killing of Trayvon Martin by an overly eager neighborhood watch volunteer.  NBA  superstars  like  Stephen  Curry  and  LeBron  James  have  been politically outspoken, particularly on racial violence, for a long time. I don't know whether the owners and the league supported them because the leaders agreed or because it was good business, but the message has been clear–and very different–until recently–from the other professional sports leagues.
Then, the strike spread to baseball, starting with the Milwaukee Brewers and the Cincinnati Reds and beyond. Then soccer, then tennis. In the polarized politics of the moment, athletes don't want to sit on the political sidelines and committed to using their platforms. Like everything else, it took years of political organizing, and often risky action by individuals. (It's easier than ever to remember Colin Kaepernick!)
Athletes can draw the spotlight, and at this moment, it's on racial justice.
And note: always edging a little bit ahead of the NBA on politics has been the WNBA. The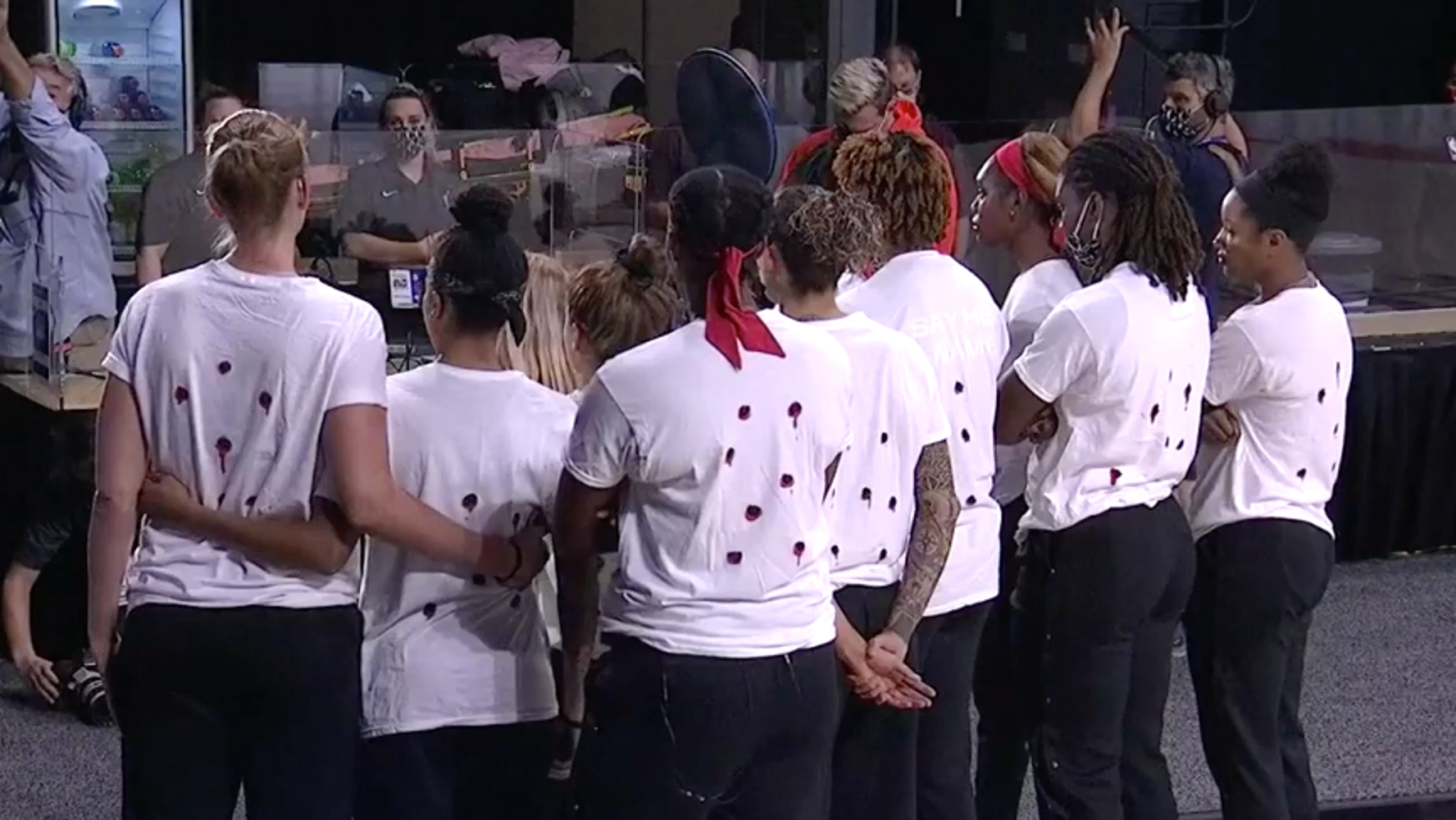 Washington Mystics knelt before their scheduled game, and refused to play. They were wearing tee shirts with Jacob Blake's name spelled on the front, and seven holes torn in the back of each one.
The world pauses and we get to think about things as they are–and maybe change them.